THE AUSABLE RIVER
The renowned Au Sable River is consistently named one of the finest trout fisheries in the nation. It also becomes a tremendous steelhead fishery throughout its last few miles below Foote Dam. The Au Sable's water's are made up of the North, South, and main branches. It is a large and in some areas powerful river. Prolific hatches, quality trout, and heavy runs of steelhead make this river a famous place. Special regulations have been placed in many areas along the Au Sable River system. Starting north of Grayling, the Au Sable flows for over 100 miles before meeting Lake Huron. The river flows south from its origin paralleling the Manistee River. After flowing parallel for approximately twelve miles, the Au Sable turns east and flows into Lake Huron while the Manistee turns southwest and flows into Lake Michigan. The Au Sable turns east and gathers the flow of the East Branch at the town of Grayling. A few miles east of Grayling the river flows past Burton's Landing, which is the start of the fly fishing only, catch-and-release section also known as the "Holy Water's." This area extends for nearly nine miles downstream to Wakeley Bridge. Within this stretch the river consists mainly of sand and gravel. Beautiful trout filled pools, runs, and riffles litter this section. This is a very productive and also popular area due to the Special Regulations put upon it and from the diversity of the water. The eight miles of fly fishing only is not called "Holy Water" for nothing.
Northern Michigan Waterfront Property on the Au Sable River
HOMES | LOTS and LAND
Several access points are available for anglers to both wade or float fish from. Thendara Road and Stephan Bridge are a couple of the many areas with good access. The water is fairly large but easy to navigate and wade. The water from Wakeley Bridge to Mio Pond easily equals the quality of the water from Grayling to Wakeley Bridge. The water is larger and has more deep pools and runs for large trout to hide. Wading here can be difficult in some areas and caution needs to be taken. Prolific hatches exist here and throughout the rest of the river. Hexagenia Limbata also known as "Michigan Caddis" are a very famous and large mayfly that are prolific through this area. Large brown trout (twenty plus inches) are found feeding to this mayfly and are sometimes caught during this hatch. Many "old-timers" will often be seen "sneaking" around the river during this hatch looking for that trophy brown. A couple of good access points are found at The Whirlpool off of Cherry Creek Road and at Parmalee Bridge.
From Mio Dam to McKinley Bridge the river harbors an abundance of trophy size trout. Large brown and rainbow trout are in good numbers here. Like the upper areas quality hatches make it a wonderful stretch. The water is deep and strong in many areas. Wading is a challenge although it can be accomplished in certain areas. A boat is the best way to cover and fish this water. Hiring a guide will ensure the most potential out of this tremendous section of river. A few good access points are located at Perry Creek, Comins Flats, and Mckinley Bridge. The North and South Branches of the Au Sable are also tremendous fisheries. They provide excellent angling with plenty of easily waded water. The South Branch flows northerly out of Houghton Lake towards the Mainstream of the Au Sable passing the town of Roscommon on its way. It meets the mainstream a short distance below Wakeley Bridge. A section for fishing with artificial flies only, no kill is located from Chase bridge downstream to Lower High Banks. Brook, brown and some rainbow trout can be found in its waters. Access areas are numerous along the river providing ideal areas to "hop" out of your car and wade fish. The North Branch flows southeasterly passing through Lovells eventually emptying into the Mainstream a few miles downstream from the South Branch. The North branch is also a quality fishery with a section devoted for fishing with artificial flies only from Sheep Ranch downstream to the confluence with the Mainstream. This is a beautiful river with slick pools and quality trout. It is a great dry fly fishery like the rest of the upper Au Sable River system. Access can be gained in many areas along the North Branch's path.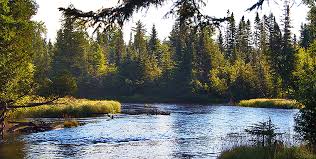 The lower Au Sable River from Foote Dam to Lake Huron is a quality steelhead fishery. The river here is very large and by some standards dangerous. Careful wading is a must and a boat provides the best angling. Steelhead and salmon both migrate up this section of the river and can be caught in the same manner as the other great lake tributaries. Steelhead fishing is available (depending upon conditions) from late fall through early spring. The Au Sable River is an awesome fishery. Trophy brown trout, "screamin" rainbows, dainty brook trout, and acrobatic steelhead are caught in good numbers each year. Hatches are extremely prolific and will challenge those of the Delaware River in New York State. Anglers come to this river for more then just its great angling as it is also a beautiful and serene river. The Michigan woods is home to a diversity of wildlife from hawks and eagles to deer and bear.